Bringing Sculpture to You - Our Mission
Sculpture in the South promotes the appreciation of sculpture through education and the creation of an accessible public sculpture collection enhancing our community.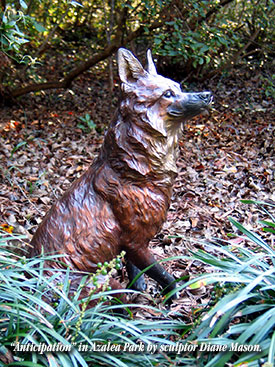 Since 1999, twenty-five bronze sculptures have been installed throughout public spaces in the town of Summerville, South Carolina, providing "up-close-and-personal" experiences with quality sculpture.
Each May, it is tradition for Sculpture in the South to host the Sculpture in the South Show & Sale, which in some years has been preceded by Arts Education Week. Thousands of people have visited beautiful historic Summerville to experience both events. The weekend has drawn national recognition and has been a mainstay in the community. Proceeds from the event go to support sculpture purchases for the Summerville Permanent Public Sculpture Collection.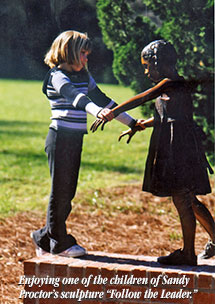 This year (2015), in order to strengthen the organization and better serve our community and the artists, we are taking a one-year hiatus from presenting the show.
We invite you to visit the public sculpture collection, which will add at least three new pieces before the summer, and to stay in touch to see the dates for the next Sculpture in the South Show and Sale.
In addition to purchasing sculpture for the Town of Summerville, we also serve as facilitators for individuals, businesses and organizations in their quest to find specific sculpture for their needs. Sculpture created by "our" artists have found permanent placement in Columbia, South Carolina's Riverbanks Zoo; in the Town of Sumter, SC; and a monumental-size bronze of Frances Marion for the Berkeley County Administration Office in Moncks Corner, SC.
History
Sculpture in the South was created in 1999 as the result of the wishes of Summerville residents that were collected during Vision Planning by the local "Main Street" organization, Summerville D.R.E.A.M. The vast majority of funds raised for the purchase of the sculpture in Summerville has been given by individuals and businesses in the community. Unlike most other towns and cities that have public sculpture, there is no "percent for art" levied on corporate construction. The art in Summerville is really a gift from townspeople to the community, which makes a strong statement about the kind of community we have.